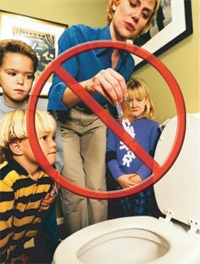 California wastewater agencies want to inform residents how to properly dispose of unused, unwanted and expired medications. Previously it was common practice to flush medications down the toilet; however, we now know that these substances are bad for our water, ground and air.
In Orange County, pharmaceuticals can either be taken to one of four Orange County Household Hazardous Waste Collection Centers, or can be properly disposed of in a trash can following the instructions below.
Orange County Household Hazardous Waste Collection Centers cannot accept "controlled substances", defined as drugs that have a potential for addiction and/or abuse such as narcotics and tranquilizers. Call the hazardous waste center to confirm whether or not the type of medication you wish to dispose is accepted.
Sharps (syringes, needles, lancets, etc) are classified as hazardous waste and therefore cannot be disposed of in a trash can. More information about the safe disposal of hazardous waste can be found here.
To properly dispose of medications in a trash can:
1. "Treat" the medicine in order to prevent people and animals from possibly ingesting it.
For capsules or pills, you can add water and mix with salt, ashes from barbecue or fireplace, or dirt.

For liquids, mix with salt, ash or dirt.

For pills provided in a pack or card, wrap entire package with several layers of duct tape.
2. Seal medicines if possible in the original container with the safety cap. Tape the lid to the container with duct tape or other sturdy tape. For liquids, place inside a plastic container in the event that the bottle breaks.
Hide all medication in an outer container such as paper bag, box, or plastic tube, and wrap in several layers of newspaper to prevent discovery and removal.
3. If desired, remove patient's name, drug name, prescription number and other personal information before disposal.
For more information please visit NoDrugsDowntheDrain.org