Capital Improvement Program (CIP)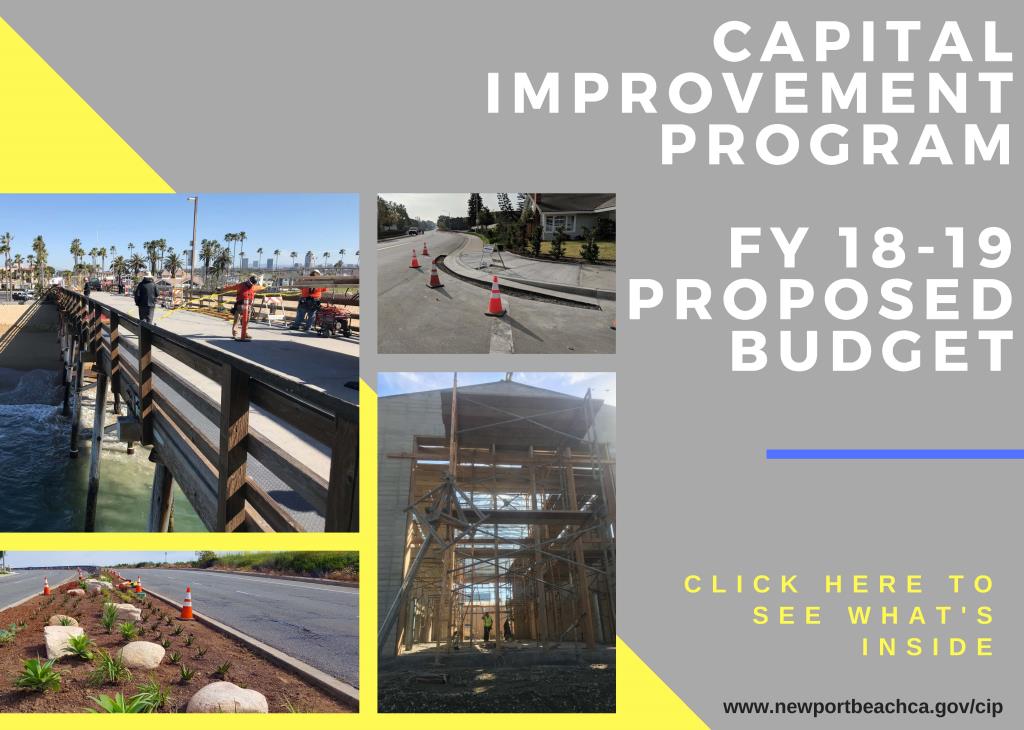 Click on the image above to view the Proposed FY 18-19 Capital Improvement Program Budget.
The City of Newport Beach Capital Improvement Program (CIP) serves as a plan for the provision of public improvements, special projects, on-going maintenance programs and implementation of the City's master plans. The CIP budget supports the City's stated budget principles:
keep the community safe
provide quality mix of services that Newport Beach residents expect in a cost effective manner
keep Newport Beach looking great
maintain a fiscally stable and sustainable city government
provide government transparency to the citizenry.
Projects are programmed by long range master plans and as directed by City Council priorities and community input. The Proposed CIP budget will be reviewed next at an open City Council meeting on May 8th and possibly May 22nd. Adoption is anticipated on June 12th. We welcome your comments at PWinfo@newportbeachca.gov or 949-644-3311.
Our Services
The Engineering and Construction Services Division of Public Works Department is responsible for the Capital Improvement Program (CIP) projects, including planning, design, construction, and inspection.
Engineering Services include:
Coordinating with utility companies
Environmental Programming
Feasibility and environmental studies
Funding applications for State and Federal grants
Planning, design and project management of CIP projects
Pavement Management Program
Utility Underground Assessment Districts
Water Quality and Environmental issues
Construction Services include:
Inspection of Capital Improvement Program construction projects
Inspecting Encroachment Permits for compliance
Preparation of "As-Built" construction drawings
Construction Activity / Noise Regulations
Contact Us
NAME
TITLE
PHONE
EMAIL

David Webb

Public Works Director

949-644-3330

Mark Vukojevic

Deputy Public Works Director

949-644-3319

Engineering Services

Michael Sinacori

Assistant City Engineer

949-644-3342

Bob Stein

Assistant City Engineer

949-644-3322

Fong Tse

Assistant City Engineer

949-644-3321

Patrick Arciniega

Senior Civil Engineer

949-644-3347

Peter Tauscher
Senior Civil Engineer
949-644-3316
ptauscher@newportbeachca.gov

Andy Tran

Senior Civil Engineer

949-644-3315

Kathryne Cho

Associate Civil Engineer

949-644-3014

Benjamin Davis

Associate Civil Engineer

949-644-3317

Frank Tran

Associate Civil Engineer

949-644-3340

Alfred Castanon

Associate Engineer

949-644-3314

Construction Management

Brandon Spencer

Construction Supervisor

949-644-3331

bspencer@newportbeachca.gov

Tom Legault

Senior Public Works Inspector

949-270-8134

Mike St. Clair
Senior Public Works Inspector
949-270-8133

Zac Gentry

Public Works Inspector II

949-270-8132

General Inquiries

949-644-3311