Marine Protection & Tidepools
Crystal Cove State Marine Conservation Area
Big Corona and the southern coves of the Crystal Cove State Marine Conservation Area (SMCA) are considered a Marine Protected Area. There is ABSOLUTELY NO COLLECTING of animals, shells or rocks from the tidepools or these protected areas. For more information, see OCMPA for complete guidelines or visit http://www.ocmarineprotection.org.
Marine Protection & Education Contact Information

The ISOPod
I= Interactive, S= Sea Life, O= Outreach, Pod= our truck! The ISOPod is a unique experience that brings the tidepools and sealife to your classroom. Our goal is to engage, explore and effect through our learning experience. For more information on the ISOPod and other educational programs, please visit www.isopodoc.org.

Western Snowy Plover
The Western Snowy Plover (Plover) is a small shorebird that can be found along the Pacific Coast from Baja California to Washington. Since 1993, the Polver has been listed as a "threatened" species and is federally protected under the Endangered Species Act (ESA). A population of Plover's live on the Balboa Peninsula, between B Street and the Wedge (a distance of over one mile), for a majority of the year.
Under the ESA, the area between B Street to G Street, is designated a "critical habitat" area by the U.S. Fish and Wildlife Service (USFWS). Critical habitat "is a term in the ESA that identifies geographic areas containing features essential for the conservation of a threatened or endangered species, and which may require special management considerations or protection" (USFWS).
Management and protection of the critical habitat area is an important part of the USFWS's recovery plan that aims to increase the Plover's population and meet specific criteria to one day remove them from the endangered species list. Click on Newport Beach Western Snowy Plovers to learn more about the City's efforts to manage the critical habitat area.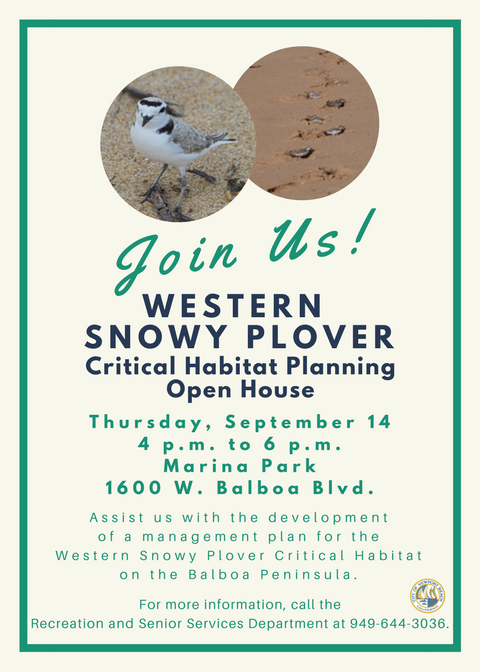 Other Programs
Tidepool Exploration
Monthly Beach Cleanups
Costal Cleanup Day
Monthly Tidepool Hikes
Tidepool Interpretive
Orange County Natural History Lecture Series
Back Bay Science Center Community Days
Mountain Sea Adventure Camps
Volunteering
Programs and activities are weather and tide dependent. Make sure you check the tides before you head out to explore. Conditions vary from day to day. Both of the photos below were taken mid-afternoon on different days.
Tidepooling in the afternoon in the photo on the right may lead to some excellent discoveries and seeing cool creatures.
Tidepooling on the afternoon in the photo on the left will most likely lead to a wet (and possible dangerous) trip with very little to see.
Check tides in the newspaper or click here for tides and weather conditions. Remember, the lower the tide, the better your experience
Here is a sample of the same beach at low tide and high tide.

Little Corona Beach at Low Tide
Little Corona Beach at High Tide