Make Water Conservation a Way of Life
Quick Links

Videos and Public Service Announcements
How Did We Do?
During the State declared drought emergency, the City reduced its water use for City parks, medians and facilities. Residents and businesses stepped up to significantly reduce their usage too. Everyone did a great job.
During the 21-month period (from June 2015 through March 2017), the Newport Beach community saved 2,117,640,497 gallons of water compared to the same months in 2013. That's over two-billion gallons of water, a savings of 22.3 percent.
What Happens Now?
On April 7, 2017, the State ended the drought emergency and on April 25, 2017, the City Council repealed its resolution declaring a level two water supply shortage. While the drought and water restrictions are over, we all still need to practice water conservation efforts. The State's effort is being called "Make Water Conservation a Way of Life."
The City's water suppliers, the Municipal Water District of Orange County and Orange County Water District, have stated that there are sufficient supplies even if there are three additional dry years. The Orange County Water Basin is currently at a low level and showing signs of recovery. For these reasons, the City Council lifted the temporary restrictions on water usage. However, permanent restrictions remain in place and the State will be establishing new regulations.
Continuing to conserve water is still important. There are plenty of rebates available when you upgrade your home and property with water efficient fixtures or landscaping. Staff will continue to provide water conservation education and enforcement of the current permanent restrictions, see below.
Permanent Restrictions Remain in Place
Watering over 15 minutes per station for automated irrigation systems.
Watering outdoor landscapes in a manner that causes runoff.
Washing down hard surfaces including sidewalks and driveways.
Not repairing water leaks or breaks quickly.
Irrigating lawn, shrubs or ornamental landscape during or 48-hours after rainfall.
Operating a fountain or decorative water feature, unless the water is part of a recirculating system.
Washing a vehicle (including cars, trucks, boats, trailers and recreational) with a hose, unless the hose is fitted with a positive shut-off nozzle.
State Mandated Reporting
The State mandated monthly measuring and reporting started in June 2015. Below is a graph that displays historical usage and how our residents have been doing (click on the image to view as a PDF).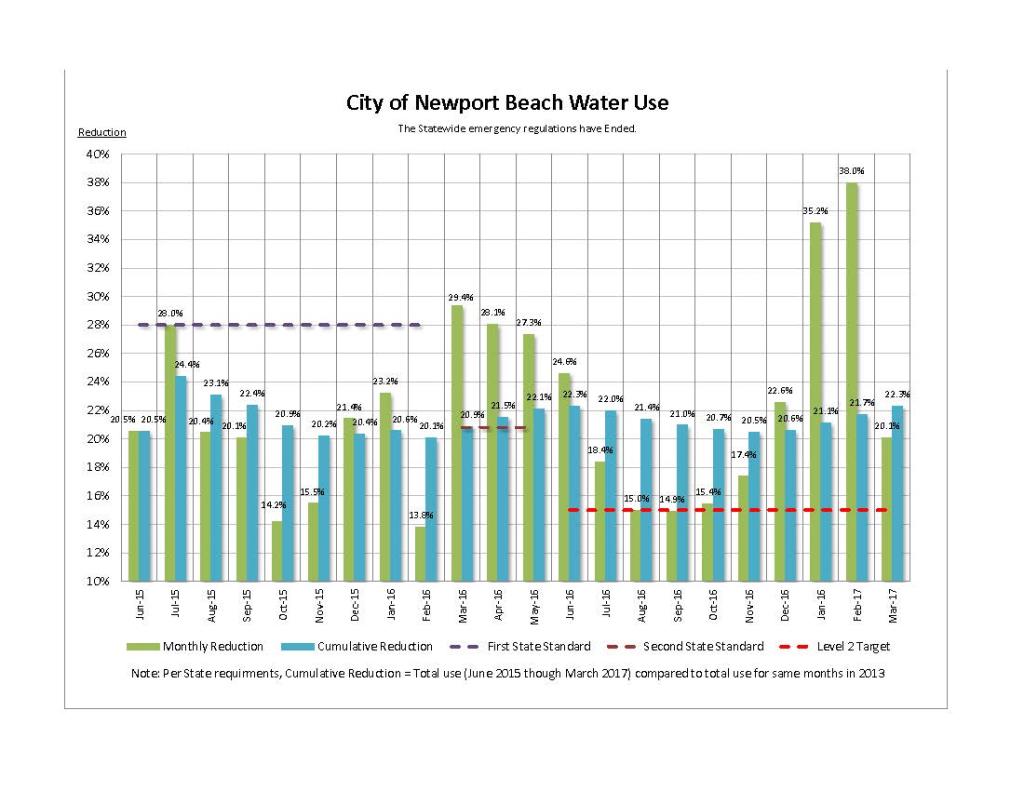 Background
On January 17, 2014, Governor Brown declared a State of Emergency and directed State officials to take all necessary actions to address drought conditions. The proclamation gave State water officials more flexibility to manage water supply throughout California due to the drought. Since the, there have been numerous actions taken by both the State and by the City Council, which resulted in the declaration of a Level Three Water Supply Shortage by City Council on June 9, 2015.
On May 9, 2016, Governor Brown issued an Executive Order B-37-16 calling on the State Board to adjust emergency water conservation regulations through the end of January 2017, in recognition of differing water supply conditions across the state.
On May 18, 2016, the State Board adopted a statewide water conservation approach that mandates urban water suppliers ensure they have a three-year supply of water assuming three more dry years occur. Water agencies that would face a shortage under this scenario would be required to meet a conservation standard equal to the amount of the shortage.
On July, 14, 2016, City staff provided an update to the City Council on the new regulations established by the State Board due to the improved conditions in Northern California. In consideration of improved conditions, continued emergency State regulations, and the threat of continued drought, the City Council directed staff to return with a resolution to reduce water conservation requirements from a Level Three to a Level Two.
On July 12, 2016, the City Council adopted Resolution No. 2016-87 to set water conservation restrictions at a Level Two Water Supply Shortage, which requires all water customers reduce their water usage by 15-percent compared to the same billing period in 2013.
On April 7, 2017, Governor Brown ended the drought State of Emergency in all California counties except Fresno, Kings, Tulare and Tuolumne. The Governor's Executive Order B-40-17 rescinds two emergency proclamations and four drought related Executive Orders and builds on actions making water conservation a way of life.
On April 25, 2017, the City Council repealed Resolution No. 2016-87 ending the mandatory water conservation requirements, which included restricted watering days and a 15 percent reduction in use by all water customers. Permanent water conservation restrictions remain in place.
During the drought emergency, the City prepared and distributed numerous informational notices to its water customers and the community. Below are the postcards, flyers, brochures and other information regarding the drought.
Below are links to other resources regarding the drought and water conservation.