Latest News:
ADU Development Tracking Dashboard
Desktop Version Mobile Version
_____________________________________________________________________________________________________
What is an ADU?
This is shorthand for an "accessory dwelling unit" sometimes referred to as a "granny flat," "in-law unit" or "backyard cottage." There are also JADUs or "junior accessory dwelling units." Both ADUs and JADUs are additional independent living facilities, for one or more persons, which are located on the same parcel as a primary residence or residences. ADUs and JADUs are now permitted where residential uses are allowed, including single-family lots.
Types of ADUs?
(Click on Graphic for Development Standards)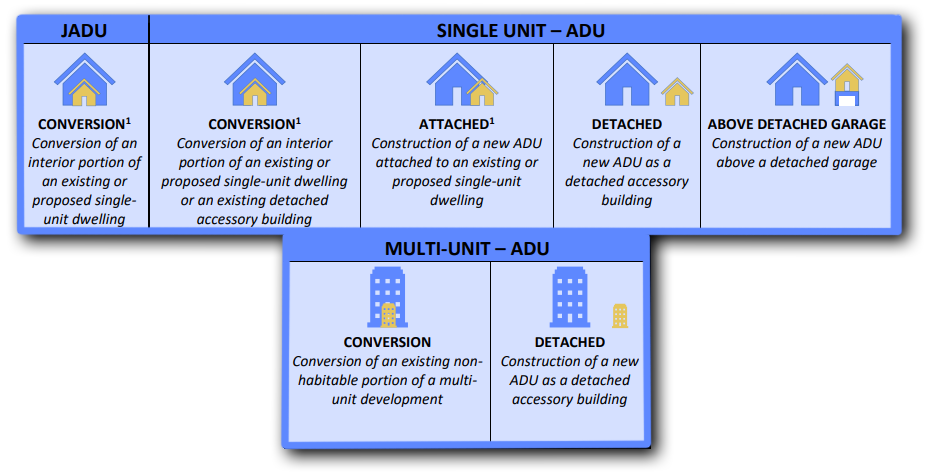 What are some benefits?
Source of income for property owners;
Allows extended family to live near one another;
Allows seniors to age in place with housing for caretakers;
Affordable to construct because they do not require paying for land; and
Helps address state-mandated housing needs assigned to Newport Beach.
What incentives does the City offer?
What projects are eligible?
The temporary fee waiver applies to the:
construction of a new detached ADU to an existing residence;
construction of a new attached ADU/JADU to an existing residence;
conversion of existing residential floor area, including a garage, to an ADU/JADU; or
legalization of an existing, unpermitted ADU or JADU that meets all current and applicable requirements of the Municipal Code, including, but not limited to the California Building Code.
The temporary fee waiver does not apply to a new ADU/JADU that is part of a new residential development project (i.e., a new home).
Resources
For More information, click here, or call speak to our planning staff at (949)644-3204