MARINERS' MILE REVITALIZATION MASTER PLAN
| | | |
| --- | --- | --- |
| Mariners' Mile has been identified as an area needing revitalization. With completion of the study evaluating roadway capacity requirements for West Coast Highway, the City will be evaluating existing land use policies and regulations, which may inhibit revitalization of the area. The Mariners' Mile Revitalization Master Plan is intended to identify potential refinements or barriers to revitalizing the area. The City contracted with PlaceWorks in May of 2016 to assist in these efforts. | | |
General Plan Figure LU26 (Mariners' Mile)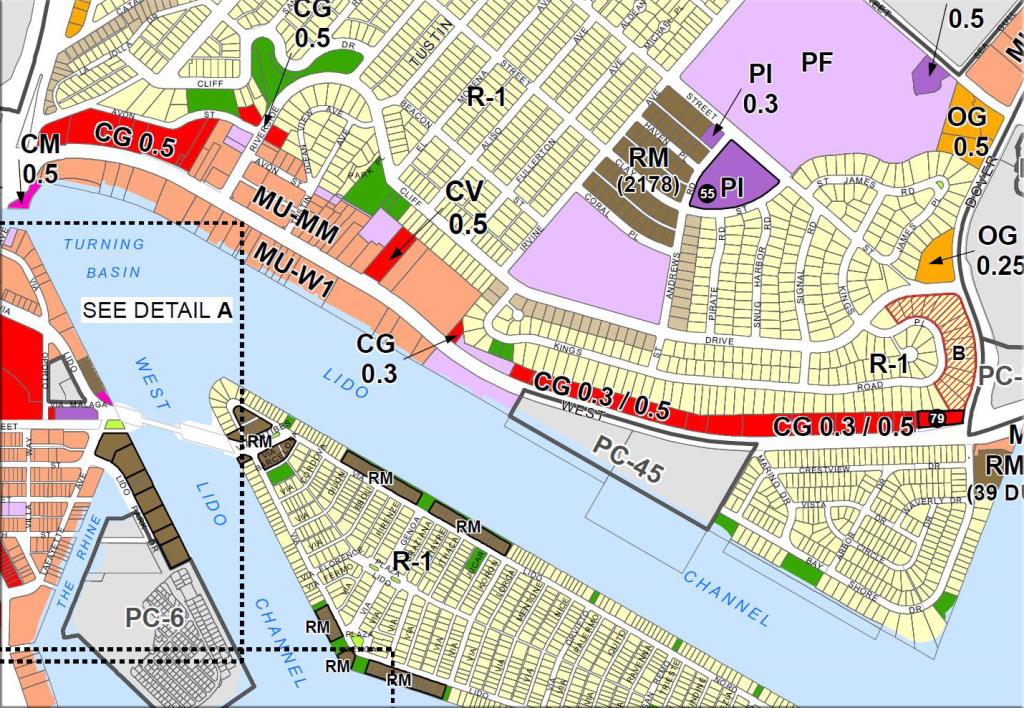 PROCESS
The Mariners' Mile Revitalization Master Plan process incorporates public engagement and consideration of the following:
• Evaluating existing policies and regulations
• Development of standard changes or incentives
• Parking management
• Urban form visual simulations
• Pedestrian and bike connections, as well as street design
• Public meetings with Planning Commission and City Council
Information from pre-existing studies, policies, and design guidelines will be considered in the development of the Master Plan such as:
• Congress for New Urbanism Mainers' Mile Planning Charrette
• General Plan, Vision Statement, Goals and Policies, and Housing Opportunities Sites for the Mariners' Mile subarea
• Mariners' Mile Parking Policy Plan
• Mariners' Mile Strategic Vision and Design Framework
• Newport Beach Bicycle Master Plan
• Newport Beach Coastal Land Use Plan
• Newport Beach Zoning Code
• Orange County Transportation Authority and CalTrans Corridor Study
PUBLIC WORKSHOPS/MEETINGS
Our third community workshop was held on Thursday, January 26th at 6:00 p.m., in the Collins Island and Bay Island Rooms at Marina Park. This workshop discussed the east wing of Mariners' Mile, as well as present preliminary recommendations for revitalizing the "Village" area. The earlier workshops were very productive in generating ideas for improving the area. It was exciting to share with the community at the January 26th workshop how your ideas have evolved into potential recommendations with the expertise of our planning consultants. Click here to see PowerPoint presentation.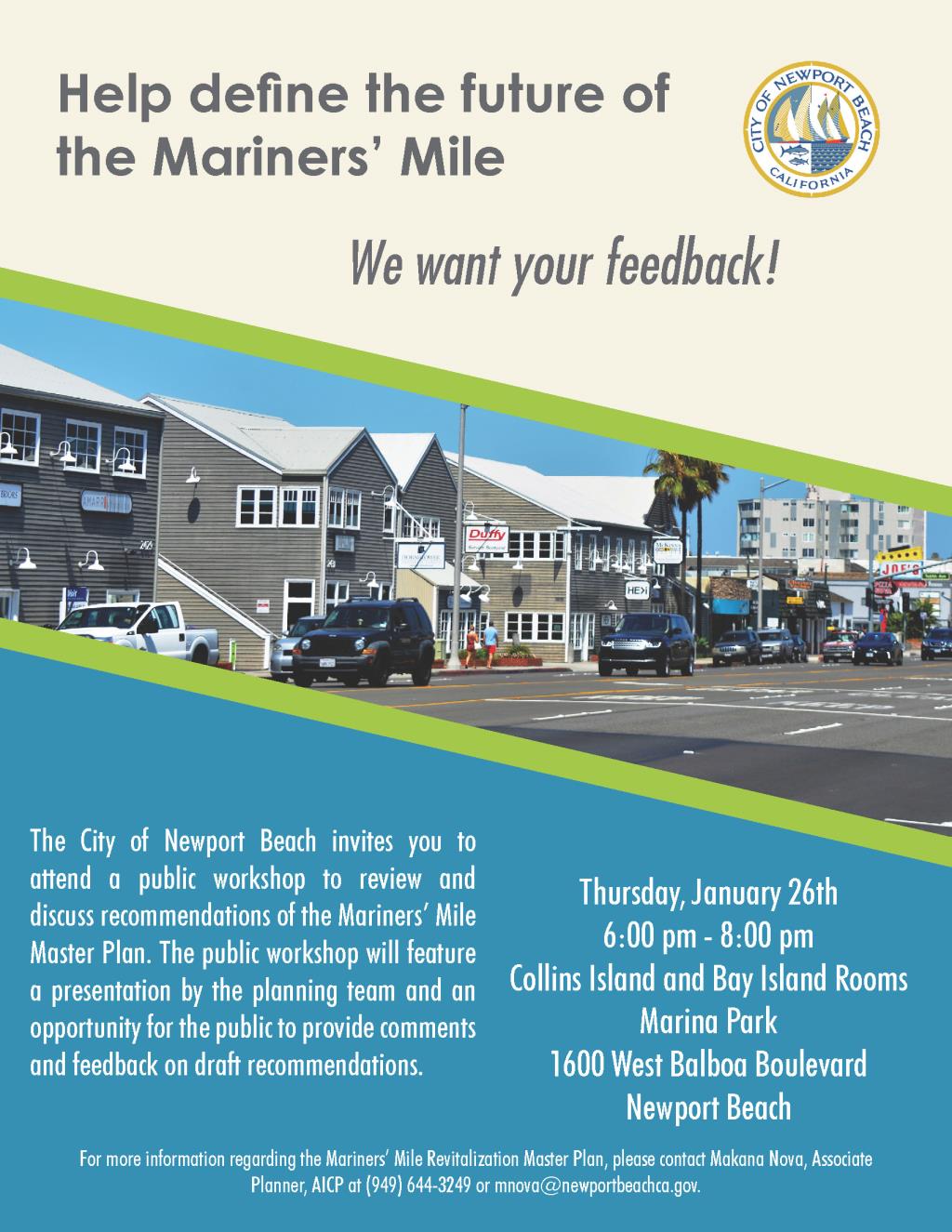 The second community workshop occurred on September 26, 2016 at 6:00 p.m., in the Collins Island and Bay Island Rooms at Marina Park. The workshop was a joint meeting with the Planning Commission and addressed preliminary ideas, developed in response to the comments you gave us at the first public workshop and subsequent stakeholder interviews. Topics covered included streetscape improvements, parking, pedestrian and bicycle movement, and development in Mariners' Mile. Click here to see the PowerPoint presentation.
The first community workshop was held on July 25, 2016, at the Newport Sea Base and was intended to introduce the community to the Master Plan purpose and process as well as obtain initial feedback from the public about opportunities, challenges, and ideas for improvement of the Mariners' Mile neighborhood. The following information is available from the workshop:
CONTACT
The City has created an electronic mailing list of interested parties to help provide notification of updated meetings and project updates. To be added to this distribution list or if you have any questions, please contact:
Makana Nova, Associate Planner
City of Newport Beach
100 Civic Center Drive
Newport Beach, CA 92660
949-644-3249