Preschool, Youth & Teen Programs
Preschool 101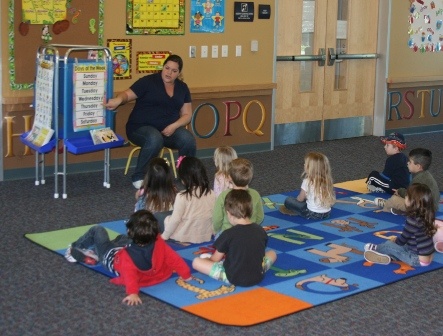 Prepare your child for kindergarten! This structured preschool program will introduce children to numbers, colors, and letters while emphasizing sharing, respect, and understanding. Art, music, stories and games will help children reach their pre-kindergarten potential. Preschool 101 has trained and enthusiastic staff who are First Aid and CPR Certified.

Program Details and Fees:
Ages 4 1/2-5yrs: Monday, Wednesday, Friday from 9:15 am-Noon $448
Ages 3-4 1/2yrs: Tuesday, Thursday from 9:15 am-Noon $305
Participants must be potty trained, no pull-ups.
Locations: Mariner's Library (VJC Room), Newport Coast Community Center

Registration ONLINE ONLY - click here to see if any spaces available for current season.
For more information: Contact 949-644-3151 or recreation@newportbeachca.gov.
---
Active Kids
Active Kids Active Kids Afterschool program provides a fun, safe, and educational environment for youth in grades K-6. Enjoy time with your friends in planned indoor and outdoor activities, homework assistance, and creative arts.
Program Details:
Monday- Friday. From school dismissal to 6:00pm (Includes early-outs and non-student days). All sites are CLOSED on NMUSD holidays.
Non-Student Days will be open at one site, TBA.
Fee:
$360 per trimester
Locations
:
Newport Elementary
,
CYC (Grant Howald Park)
,
Mariners (Mariners Library-VJC Room)

Registration ONLINE ONLY! -
Click here
to see if any spaces are available for current season.

For more information:
Contact 949-644-3151 or
recreation@newportbeachca.gov
.
---

Teen Leader Program

The City of Newport Beach Recreation Department will be offering a Teen Leader Program for ages 13-16. The Teen Leader Program allows teens the opportunity to work side by side with Recreation Staff in the City's three ACTIVE Kidz after school programs and other City events. This program provides an opportunity for teens to be involved in the community and make a difference in Recreation programs while earning community service credit!

The Teen Leader Program provides hands on experiences, mentorship, and resume building exercises. Staff will emphasize leadership development, teamwork, and professionalism, as teens are provided with an opportunity to develop and enhance life (work) skills while gaining valuable job experience.

Registration: To apply to the program, please complete the Teen Leader Program Overview 2017 Application
Teen Leader Program Overview
Teen Leader Program Guidelines
For more information: Please contact, 949-644-3151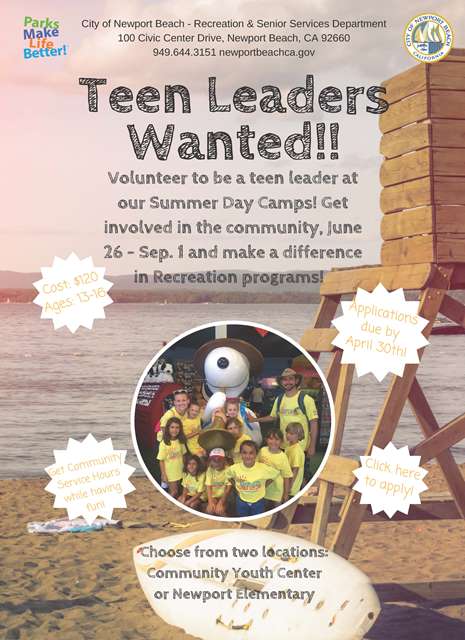 ---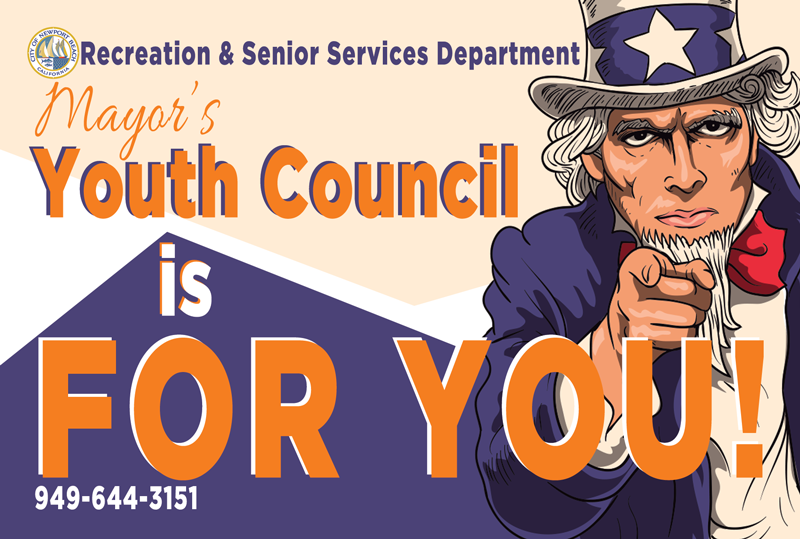 Mayor's Youth Council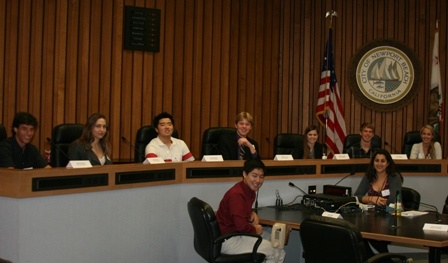 Are you looking for an opportunity to make positive impact in your community? Are you looking to be the Mayor or in government some day? Does your college resume need a boost? Do you need a forum to express your opinions, creativity, and civic mindedness? If so, then the

Mayor's Youth Council is for you!
The Mayor's Youth Council is a dedicated group of teens who strive to improve the Newport Beach community through participating in local government and charitable works. The Youth Council primary focuses are:
Government Experience: Youth Council members participate in meetings, discussions, and general governing procedures. Youth Council will elect their leadership, debate current topics, and present to City Council.
Community Service: Every year, Youth Council creates and partakes in charitable works that improve their community. In 2016/17 the Council collected, organized, and delivered items and gifts for Adopt A Family during the holidays.
Youth & Government Day: Youth Council members attend Youth & Government Day at the City of Newport Beach in which they experience firsthand how City Government and Staff work to provide for the residents of Newport Beach. This is truly a unique and rewarding day!
Program Details: The Youth Council has nine Monday evening meetings from September through May and Youth & Government Day in November. The Youth Council will also attend special events, community service projects, and presentations.
Registration for the 2017-18 school year is NOW OPEN! All High School students are encouraged to participate. Youth Council members need to be a resident of Newport Beach.
First Youth Council Meeting:
September 11th at 6pm at the Community Room

at the Civic Center (100 Civic Center Drive)
Click here for an application.
For more information: Contact the Recreation Supervisor at 949-644-3150 or balexander@newportbeachca.gov