The Newport Beach Public Library is currently re-open the Central Library to the public with modified hours and services.
Following the State guidelines for the New Blueprint for Safer Economy Plan, the Central Library has restarted in-person services incrementally. Occupancy is limited to a capacity of 100 and face-coverings are required for both staff and the public entering the Library. Initial services offered allow patrons to browse the shelves, check out materials, and manage accounts. Public computers will be available on a limited basis.
In accordance with guidelines from the State of California, Newport Beach Public Library has implemented a variety of precautions to make the environment as safe as possible for staff and the public. The Central Library is equipped with Plexiglass barriers at public service desks, social distancing demarcation signage and hand-sanitizers.
"Aging As Art", a Photographic Exhibit Presented by the Council on Aging
October 14 - November 20, Second Floor Exhibition Space
The Council on Aging – Southern California invited all amateur and professional photographers, 18 years of age or older residing in California, to use their imagination and share their vision and unique interpretation of the aging experience.
The Aging as Art Photography Show was juried by a panel of distinguished judges. Selected entries are currently on display on the second floor of the Newport Beach Central Library from October 14 through November 20, 2020.

The Aging as Art Photography Show depicts the diversity, dignity, and challenges of what living a long life means today.
The exhibition will be on display in the second floor exhibition space through November 20, during the library's modified operating hours.
"Youth Ocean Art", Mixed Media Exhibition
Presented by Bow Seat Ocean Awareness Programs, Sierra Club Angeles Chapter and the Newport Beach Chamber of Commerce
November 9 - January 8, 2021, Central Library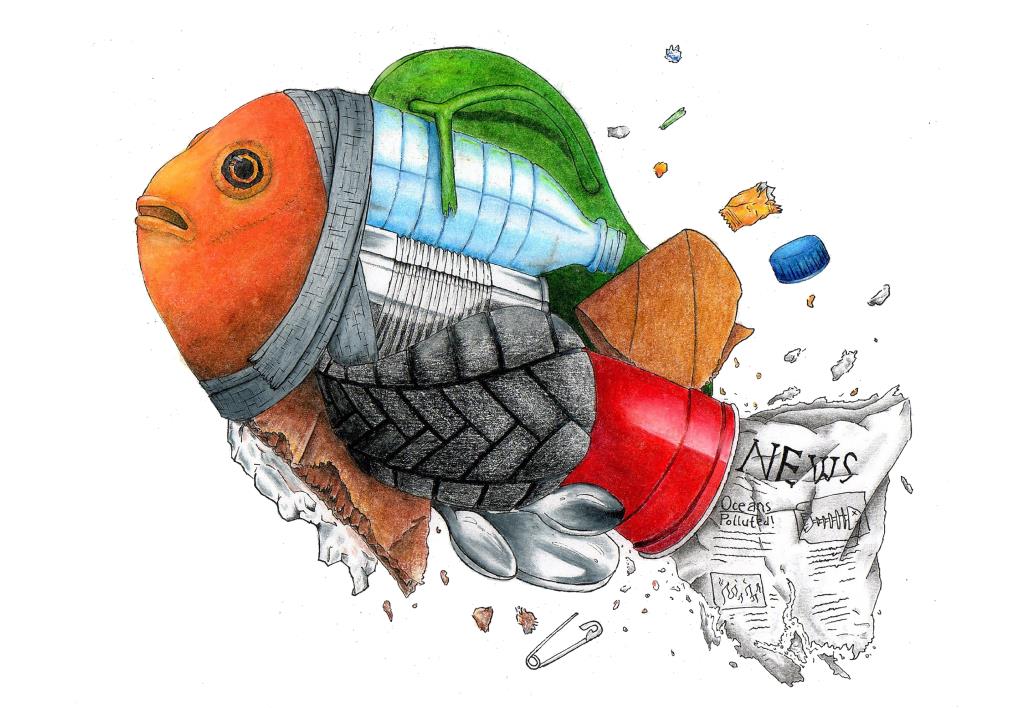 The Newport Beach City Arts Commission presents Bow Seat Art, an exhibition of youth ocean art, on display at the Newport Beach Central Library gallery.
This collection calls for care for our friends in the oceans, who suffer from our increased use of plastic since the COVID-19 pandemic started. Study showed plastic in the oceans will triple in 20 years. These young artists use creative and thought-provoking messages to call for change.
For our children, our environment and our economy, we must support every business and policy that aim at plastic reduction – now. And most importantly, each of us must lead by example – with a sense of duty and a vision for the future.
The exhibition will be on display through January 8, 2021, during the library's modified operating hours.
(Float On by Emmanuel Ramirez)
---
Up Next
2021
William Leung (acrylic on canvas): January 11 - March 5

Agnes Schenk ("Never Stop Blooming", oil on canvas): March 8 - May 7

"Fake or Fortune: Provenance and Attribution" (exhibition and lecture): May 10 - July 2


Quilts on the Wall (Textiles): July 5 - September 3

Richard Ferncase (Photography): September 7 - November 5

Sunny Kim (Acrylics): November 8 - January 7, 2022
2022
Roxanne Sexauer (Woodcuts & Linocuts): January 10 - March 4

Lisa Fu (Watercolors): March 7 - May 6

Michael Crook (Carved/Painted artwork): May 9 - July 1

Ann Apeles Brunning ("Flying Flowers", photography): July 5 - September 2
To have artwork considered for an exhibition at the Central Library, download and fill out the Application for Consideration Art
In the News