Interactive Building Permit Dashboard
The Building Permit Dashboard is an interactive tool to identify all the issued / active building permits within the city. The map can be filtered by using the "selection tool", or clicking on one, or multiple charts. Features of this application include:
Total number of active building permits and project valuation citywide
Active Permits Issued in the Last 10 or 30 days
Building Permit Type
Active Building Permits by Council District
Address Search
Select point on map for permit description
Select Here for Desktop Version , or Mobile Version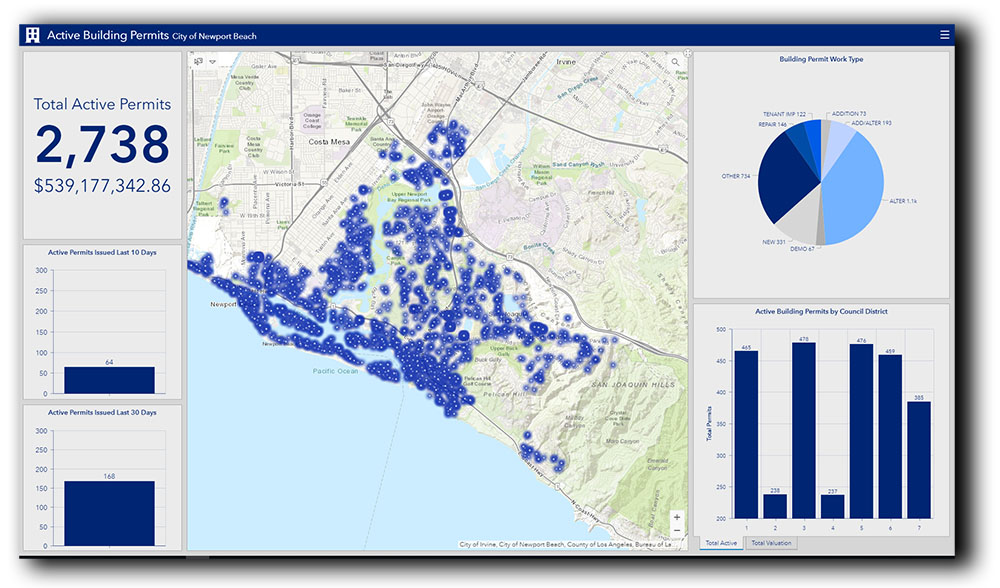 The City of Newport Beach Map Viewer - allows for easy access to the City's GIS Data, including potential geological hazards, themed maps and detailed harbor information. The site also allows for various searches to be performed and more detailed attribute information to be retrieved.
Projects going on in my Neighborhood - This map viewer will allow you to view all active building, planning and capital improvements projects going on in the city. Building and Planning Permits will appear as you zoom-in to the map.
_______________________________________________________________________________________________
The Building Division provides building permit, plan checking, and inspection services for new construction, additions, and remodels. Our main objective is to assist you in understanding our policies and processes as they relate to obtaining a building permit and completing a project. Please contact our division directly at (949) 644-3200 or select one of the links below to learn more.