Sculpture Exhibition in Civic Center Park
Sculpture Exhibition in Civic Center Park - Phase V Public Poll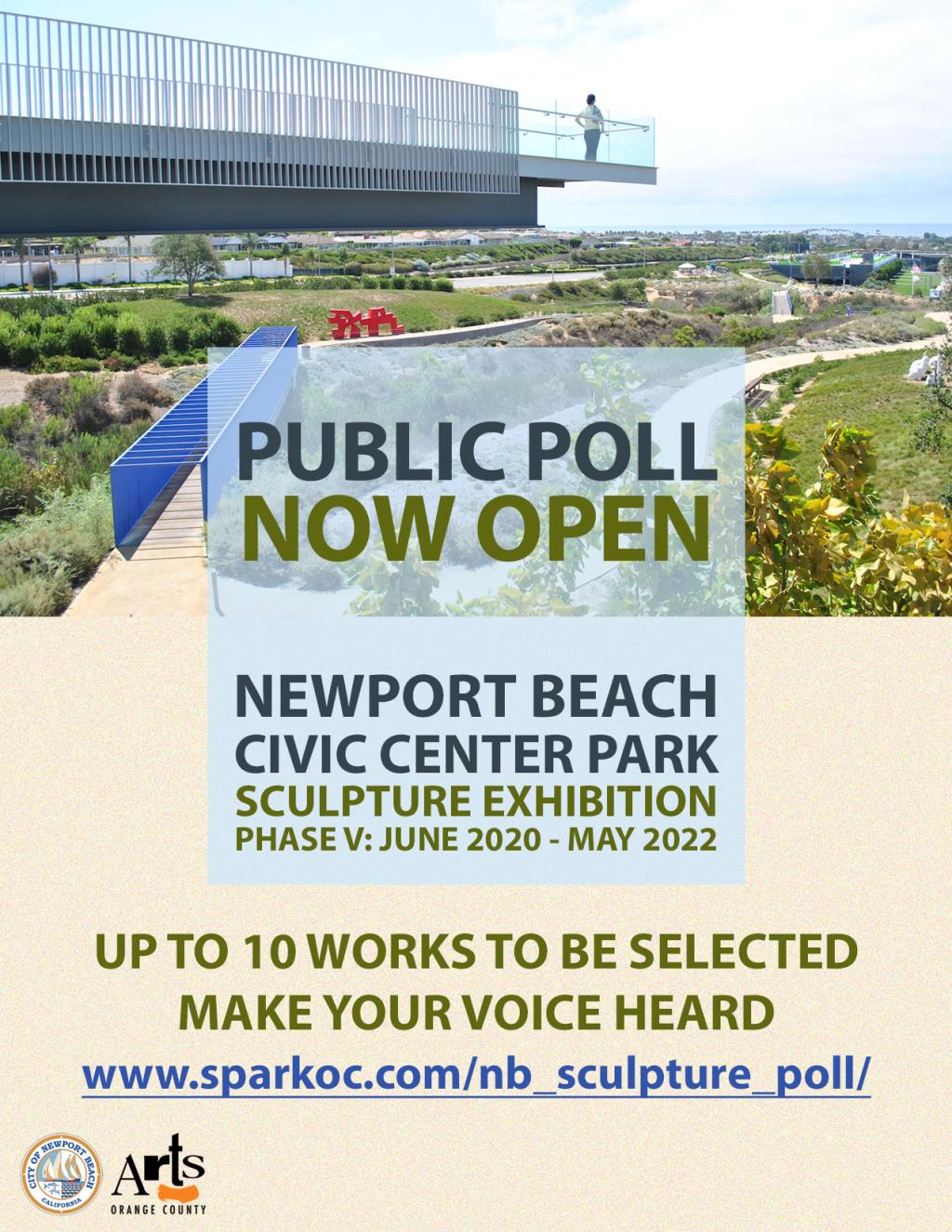 The City of Newport Beach and the City Arts Commission invites public feedback regarding the selection of sculptures for Phase V of the Sculpture Exhibition in Civic Center Park. Up to ten artworks will be chosen from the recent submissions and showcased for two years in the heart of Newport Beach in Civic Center Park from May 2020 to June 2022.
The 14-acre Civic Center Park was designed by renowned landscape architect Peter Walker with designated areas for public art. This is a unique opportunity to display artworks in a serene, ocean-view setting that attracts Newport Beach residents as well as tourists from around the world. The prior four phases of this exhibition have delighted and enriched visitors with the works of world-class artists both local and international.
This poll allows members of the community and any other art lovers the opportunity to vote for the piece they would most like to see exhibited.
CHOOSE YOUR FAVORITE ARTWORK!
How it works:
Voting is online only. VOTE HERE.
The period for voting ends Wednesday, February 7, 2020.
Members of the public may vote for up to three favorite works among those submitted.
Individuals may only cast their votes once.
The result of the public vote will be taken into consideration by the judging panel, and the vote is advisory in nature and non-binding.
Coordination of the Sculpture Exhibition in Civic Center Park is managed under contract with the City of Newport Beach by Arts Orange County, the nonprofit countywide arts council. http://artsoc.org/
---

Sculpture Exhibition in Civic Center Park - Phase IV
The City Arts Commission invites the public to explore the Sculpture Exhibition in Civic Center Park, the City's largest display of public art. The Sculpture Exhibition was first installed in 2014 with sculptures on loan for two-year periods. Phase IV showcases ten large-scale pieces, which will be on display until June 2021.
START Now
Artist: Scott Froschauer
Veteran of both the Smithsonian and Burning Man, Scott Froschauer has a disruptively simple word of instruction for us in START Now. Froschauer created this sign using official design specs and parts from the Department of Transportation – a bureaucratic Trojan Horse for a touch of personal inspiration and, literal, reflection.
Wind Swept
Artist: Lake Daffner
Angelic forms in stainless steel make for a dazzling trio in Lake Daffner's Wind Swept. Raised in Las Vegas, the up-and-coming sculptor Daffner infuses this collection of figures with both elegance and showmanship. Reflecting sunlight, moonlight, and weather, their changing shades makes them come alive.
Chairman of the Board
Artist: Steven Rieman
Steven Rieman uses the title to clue you in to the subject of this frisky kinetic work – a surfer in a state of both wildness and balance on a great, swooping wave. With dozens of works installed across Southern California, Rieman acknowledges the delicate balance between advancing technology and the preservation of the natural environment.
The Tot
Artist: Richard Becker
The Tot is ready to jump into the water, and his goggled-and-swim-trunked figure produces instant delight on viewing. Perhaps influenced by the steampunk movement, Richard Becker has made this little stainless steel boy cartoonish, but instantly relatable; a remarkable contrast from more sober commissions like his monument to P.O.W.s at the U.S. National Cemetery.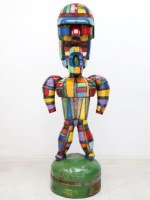 Spy Boy
Artist: David Buckingham
Los Angeles artist David Buckingham has assembled coated scrap steel into the colorful Spy Boy. An idol-like figure with his over-sized head and ritualistic stance, he calls viewers from far away to come closer and appreciate his ingenious construction. Buckingham's resume connects him back to the irreverent influences of the mid-20th century counter-culture; still able to both delight and broaden perspectives today.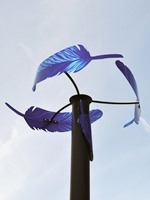 Feathers in the Wind
Artist: Alex G
The name Feathers in the Wind perfectly distills what the work gives you – the kinetic energy of a bird's flight, captured in brilliant, reflective blue. Well-known in San Diego and exhibited frequently all over Southern California, Alex G's use of realistic forms, which resonate with his Native American cultural heritage, are a gift to any natural, outdoor setting.
Slices of Heaven
Artist: Craig Gray
The poppy colors and whimsical subjects of Craig Gray's sculptures have already graced the Civic Center Park in the form of his delicious Popsicles. Though Gray calls Florida home, the orange shades that cover Slices of Heaven seem custom designed to bask in the Southern California sun, playfully recalling the agricultural heritage that gives our home county its name.
Pinnacle
Artist: Stephanie Bachiero
The flowing porcelain curves of Pinnacle communicate both power and grace. Orange County native Stephanie Bachiero, represented by the prestigious Peter Blake Gallery, shows the elegance of great minimalist work while never hiding the deep personal meaning shaping things from beneath the surface.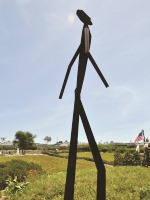 Contender
Artist: John Merigian
The larger-than-life figure, Contender commands a striking pose on a stroll through the rolling hills of the Civic Center Park. His smaller cousin Be Still and Know was part of Phase III of the Exhibition. As the sunlight shifts around all the complex angles of John Merigian's welded corten figure, the sensation of bold motion, and its joyful nod towards the sky, inspires at any hour.
Hurricane
Artist: Ray Katz
Michigan sculptor Ray Katz's masterful ability to stir up energy from abstract forms is on riotous display with Hurricane. The monumental open-beam architecture of Newport Beach's City Hall is reflected by the interlocking aluminum shapes of this work. They feel alive and chaotic from any angle, and yet careful study reveals the intricate relationships between elements which conspire to summon this energy.
Sculpture Exhibition in Civic Center Park - Phase III
The exhibition period for four pieces from Phase III has been extended, and they will be on display through the end of January 2020.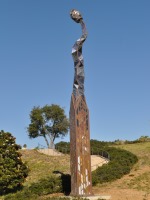 Burnt Matchstick
Artist: Karl Unnasch
Physically inspired by radio tower design, this 40-foot sculpture, with its soft-glowing beacon and slow flicker, captures a fleeting moment in time: the split-second after a burning wooden matchstick has been extinguished by a gust of air. Varying combinations of amber, black, blue and white domestic opalescent glass aggregate in a multi-planar fashion in the construction of this larger-than-life, seemingly innocuous object.
Getting Your Bearings
Artist: David Boyer
Inspired by antique industrial artifacts that can be found in the historic areas of the Western United States, Getting Your Bearings is a kinetic wind sculpture that is monumental in size, whimsical in style, and antique in appearance. Three steel and stainless steel paddle wheels sit atop a massive steel base, trunk and branches, turn effortlessly to create an overhead kaleidoscope of light and shadow.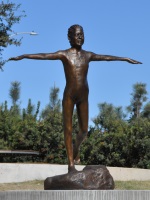 Life is a Balancing Act
Artist: Cindy Debold
Life is a Balancing Act, is a life size bronze sculpture of a young girl balancing on one foot, with her eyes closed. Standing on a rock is symbolic of a solid foundation and the closed eyes convey that life continually demands a degree of trust for it is always changing and we need to readjust to keep our balance.
Cultural Pedestrians
Artist: Sue Quinlan
Cultural Pedestrians is a series of freestanding concrete and steel pieces that visually represent different cultures of past and present people from our society and others. The pieces are human-sized, with diverse faces, hands, and artifactual jewelry, illustrating the multifaceted compilation of smaller fragments of thoughts, experiences and aspirations.
View Phase III in the Sculpture Photo Gallery.
---
HISTORY OF THE SCULPTURE IN THE CIVIC CENTER PARK EXHIBITION
Newport Beach Civic Center Park - 100 Civic Center Drive, Newport Beach

In August 2013, the Newport Beach City Council authorized the City Arts Commission and City staff to implement a temporary sculpture exhibit in Civic Center Park. The City Council approved the installation of ten sculptures in Phase I of the project and additional ten sculptures in Phase II. The sculptures installed in year one were on display for two years and were removed and returned to the artists in 2016. Those installed in year two, or Phase 2, will be removed in September 2017. The ten sculptures selected for installation in September 2015 are shown in this Phase 2 Presentation.
A grand opening celebration on September 12, 2015 marked the installation of nine new sculptures in Phase II of the Sculpture in the Civic Center Park Exhibition with the tenth sculpture, "Sunflower," to be installed in January 2016. The community was invited to view the sculptures, meet the artists and enjoy music and refreshments at the Civic Center. Docent led tours of the Sculpture in Civic Center Park Exhibition were conducted by members of the Newport Beach Art Foundation.
---

MOBILE APP SELF-GUIDED WALKING TOUR OF THE PARK
For a self-guided walking tour of the Sculpture in the Civic Center Park Exhibition, download the "MyNB" app from the Apple App Store or Google Play. Search for "MyNB." If you already have the "MyNB" app on your mobile device, update it to include the latest additions to the Sculpture Exhibition.
---

In the News