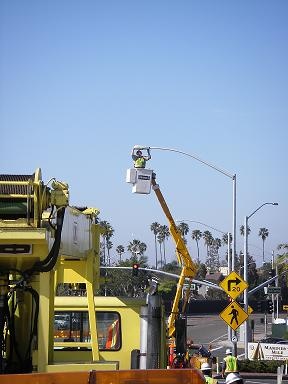 The City's contractor is currently responsible for the proactive maintenance of an inventory of over 20 types of streetlights and lighting fixtures totaling approximately 5,900 units.
To request a streetlight repair, please submit the information online using Quest or call 949-644-3011. For emergency and after-hour repairs, please call the Newport Beach Police Department at 949-644-3717.
The City is continually working to reduce energy cost and find more efficient and eco-friendly ways to light the streets of Newport Beach. We are currently converting our high voltage series street lighting to more efficient high pressure sodium lamps and in some cases LED lights. Several LED fixtures have been installed throughout the city for testing to see how the light distribution and lifespan compares to our standard streetlights.

Utilities Supervisor, Brent Millard 949-718-3422
Utilities Superintendent, Casey Parks 949-718-3477