Advanced Water Metering Infrastructure Project (AMI)
Overview
The City is in the process of replacing 26,500 old analog water meters with new digital water meters known as Advanced Metering Infrastructure or AMI. The AMI system uses a low-powered communication device that is attached to the new digital meter to transmit water usage information once per day over a secure network. By sending and receiving information through safe and secure radio frequencies, the City may provide hourly usage information to customers on their account, rather than through the current process of manually reading each meter every two months.
The first phase of the project was the Proof of Performance phase which was completed in August of 2019. This first phase included the installation of 200 digital meters spread throughout the City. The phase proved successful with the City moving on to full implementation with City Council's approval. Full implementation includes the replacement of the remaining 26,500 meters with digital meters, and the installation of an additional 18 collectors and 16 repeaters spread throughout the City. Full implementation will take nearly three years to complete.
The City has selected Mueller Systems, Inc. (Mueller), an advanced metering industry leader, as the provider of all digital meters and related metering network equipment.
Frequently Asked Questions
Benefits of the AMI Project
Access to your water usage information
After your new digital meter is installed, you have the option to register with the City's online water use portal to access your hourly water usage. This information can enable you to better understand and manage your water use and associated bill.
Reduction of water loss
Water leaks on the homeowner's side of the digital meter can be identified and repaired more quickly by the homeowner. The online portal can alert you when continuous water flow is identified. This can be an indicator of a possible leak on your property.
Customer Service
Enables the City's customer service representatives to initiate new accounts, close existing accounts, and address billing questions far more quickly and efficiently.
Installation Process Overview
Your new digital meter will be installed by Mueller's installation sub-contractor Keystone Utility System, or by City employees. The installer will have identification that shows he or she is a representative of Keystone Utility System or the City. It is important to know that you do not need to be home during installation.
One to three weeks prior to installation, a door hanger will be placed on your door indicating your old analog meter will be replaced with the new digital meter in that time frame. Appointments will be scheduled for customers who have meters that are inaccessible to the installer, and some commercial and industrial accounts.
Installation takes about 30 minutes to complete, during which the water will be shut off for about 15 minutes. When the work is complete, the installer will briefly test the digital meter, running approximately 10 gallons through it to confirm proper installation and registration. Please note a new meter box lid will be installed and pre and post installation photographs will be taken.
The City requests customers provide safe access to the water meter, generally located in your driveway or near the sidewalk. A few simple ideas to help streamline the installation process:
Inform family or tenants of installation time and date;

Make sure cars are not parked on or near the meter lid;

Clear any obstructions from around the water meter, including trimming plants or bushes;

Unlock any gates that may impede access; and

Secure pets away from the water meter.
Current Meter
New Digital Meter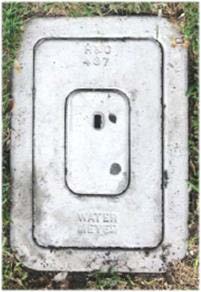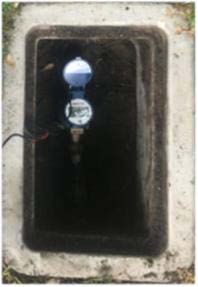 Stay Informed
The City is committed to minimizing impacts and keeping you informed about the project. For additional questions and concerns, please contact the City of Newport Beach Utilities Department AMI Hotline at: (949) 644-3099, or email us at utilitiesinfo@newportbeachca.gov.