COVID-19 Updates & City Response
The Recreation & Senior Services Department is continuing to provide programs and activities under current State and County safety guidelines. Please see the following updates as of January 29, 2021.
Outdoor programs and classes are now accepting enrollment for activities beginning the week of February 8. If you are currently enrolled in a winter activity that was suspended, you will have the opportunity to transfer or stay in an activity that will reopen with modified dates and fees. The website will be updated daily with activities as they reopen.
All INDOOR classes are suspended until further notice.
Active Kids and Marina Park Preschool remain open.
Outdoor Youth Sports are permitted under the current modifications.
Parks, trails and sport courts are open.
Lap Swim at MBAC is open under modifications.
Community Centers remain closed to the public.
OASIS personal training will resume on February 8.
OASIS outdoor classes will resume February 22.

OASIS services, such as Meals on Wheels, Transportation, Social Services, etc. will remain active.
For staff assistance, please call OASIS at 949-644-3244, Monday through Friday, from 8 a.m. to 5 p.m.
City staff are available during regular business hours. Please call 949-644-3151 or email recreation@newportbeachca.gov with any questions.
For questions regarding OASIS Senior Center, please call 949-644-3244 or email OASISCenter@newportbeachca.gov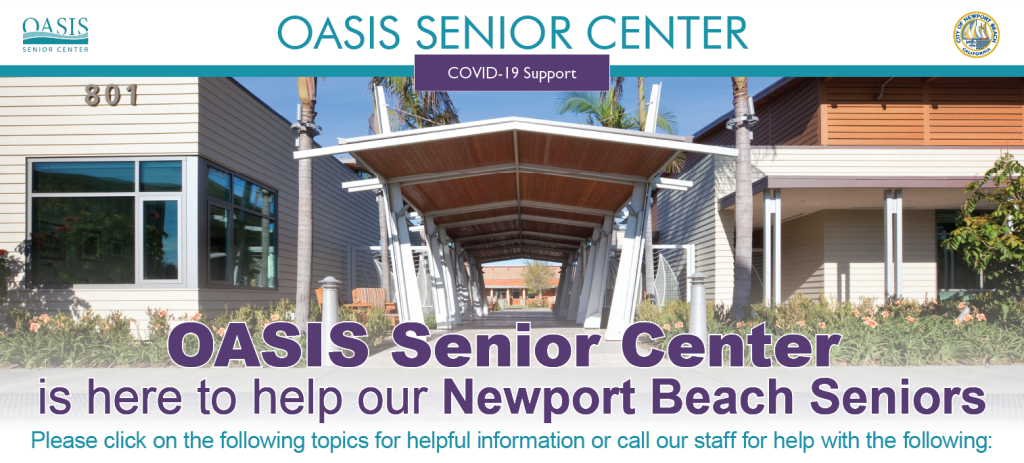 Ways to Register for Classes and Events

- ONLINE: click here

- MAIL*: OASIS Senior Center, 801 Narcissus Ave; CdM, CA 92625

- EMAIL*: OASISCenter@newportbeachca.gov

- FAX: (949) 640-7364

- ONSITE assistance is not available at this time.

* Mail & Email registrations must include a signed Registration Form
HOURS OF OPERATION

OASIS Admin Office: (949) 644-3244
Monday - Friday: 8 a.m. to 5 p.m.

OASIS Fitness Center: (949) 718-1818
Reservations Required
Monday-Thursday 7 a.m. to 6 p.m.
Friday 7 a.m. to 5 p.m.
Saturday & Sunday Closed

Click HERE to access FC webpage

DIRECTIONS TO OASIS





VIEW OASIS NEWSLETTER





SIGN UP FOR CLASSES