GRANT HOWALD PARK REHABILITATION PROJECT
NEW UPDATE
On August 24, 2020, the City kicked off the project construction phase with an intimate Groundbreaking Ceremony attended by City Council members, PB&R Commissioners and project staff. The contractor (Environmental Construction, Inc.) is expected to complete the rehabilitation in Spring of 2021. In the meantime, please exercise caution when driving and/or walking through the construction zones. The community's cooperation in making this project successful is greatly appreciated. Read more about the groundbreaking ceremony here.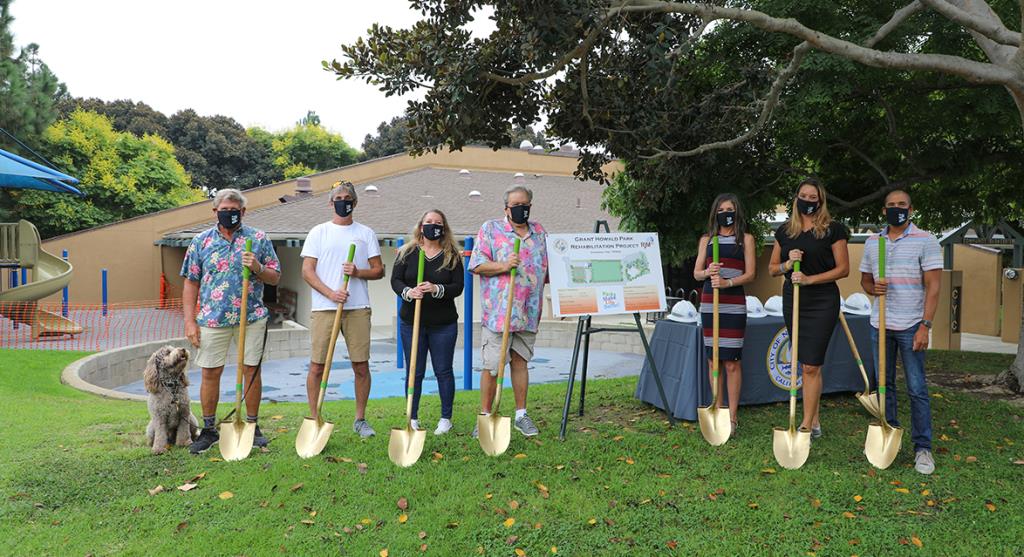 ABOUT THIS PROJECT
Grant Howald Park is a 3.1 acre park that has been serving the community since 1954. As the most visited park in Newport Beach, it is important to make sure that this park continues to serve the community at the highest level. In order to meet this standard, it is necessary to rehabilitate our City facilities from time to time. The Grant Howald Park Rehabilitation Project will be focused on upgrading the athletic field for usability throughout the year, replacing the playground equipment to encourage more integrated play and beautifying the Fifth Avenue frontage. A preliminary conceptual design is being developed by RJM Design Group, with input from City staff and the Parks, Beaches and Recreation ad hoc committee. During this conceptual design phase, we look forward to receiving the community's input to ensure that this project rehabilitates the park with amenities that meet the resident's expectations and reflects the community's charm.
NEW AMENITIES
Synthetic turf athletic fields, enabling the fields to be open all year long
Playground equipment
Picnic area
Additional seating areas
Updated restrooms

CITY COUNCIL APPROVAL
On Tuesday, May 14, 2019, the City Council approved the conceptual design for the Grant Howald Park Rehabilitation Project. The approval includes the rehabilitation of the playgrounds, installation of a synthetic sports field with new covered teaming picnic area and beautification of the Fifth Avenue streetscape with undergrounding of the existing utility poles along Fifth Avenue and Goldenrod Avenue. Staff's next steps will include coordination with utilities companies and the design of construction documents with RJM Design Group.

PB&R COMMISSION APPROVAL
On Tuesday, March 5, 2019, the Parks, Beaches and Recreation (PB&R) Commission approved the conceptual design for the Grant Howald Park Rehabilitation Project.

COMMUNITY MEETING
PROJECT TIMELINE
Bid Advertised: May 15, 2020
Bid Open: June 12, 2020
Council Award: July 2020
Construction Start: Fall 2020
Construction Completion: Spring 2021
Please visit Grant Howald Park Rehabilitation Project for further bidding details.

ADDITIONAL INFORMATION

PROJECT CONTACTS:
Public Works Department
949-644-3311
Project Inspector:
Tom Legault
949-677-0669
tlegault@newportbeachca.gov
Project Manager:
Kathryne Cho, P.E.
949-644-3014
kcho@newportbeachca.gov